Things You Can Clean in a Dishwasher
1. Ziploc bags
A trip through the dishwasher will give used Ziploc bags a good cleaning. Just make sure you spread the bag open on some prongs, so the water gets down in it completely.
2. Bathroom wastebaskets
Bathroom waste baskets can collect some nasty gunk over time. Fit them into the dishwasher (you may need to remove the top rack) and run them through a normal cycle.
3. Plastic or glass art stuff
Your paint mixing cups or brush-rinsing jars should do just fine in the dishwasher. If you don't clean these items regularly, scraping off the crud by hand can be an awful job.
Scrape off any big, dried chunks first (the ones that come off easily) to avoid gumming up the works in the dishwasher.
4. Plastic Hair Brushes, Combs, headbands, barrettes, etc.
These items can get gunky from hair oils and product over time. Pull any strands of hair out of them, then put them in a dishwasher basket on the top rack and run them through a typical cycle.
Please note: only do this with plastic a metal items. No wood handles and no natural brush fibers.
5. Pet dishes
It's actually recommended by vets to run pet dishes through a dishwasher at least occasionally, to prevent them growing bacteria which can make pets sick. You can do this alongside people dishes, unless you have a baby and/or a family member with immune system problems. In that case, you'd want to run them separately on the sanitizing cycle.
6. Soap dishes, toothbrush holders, other bathroom items
Personal care items that get gunky or filmy over time can be run through a normal cycle on the top rack, along with your other dishes on a routine dish washing.
7. Metal fixtures
Put clogged shower heads, grungy faucets and similar gunky items through a pots and pans cycle on the top rack, along with your regular pots and pans.
8. Sponges and dish brushes
Along with a regular dishwashing on a normal cycle, throw in your sponges and brushes for dishes to give them a thorough cleaning and, in the case of the sponges, remove the bacteria so they'll be safe to use until they start falling apart.
9. Gardening tools
Wash plastic-handled (no wood!) trowels and other small gardening tools on the top rack, in a separate load (just in case they have traces of fertilizer and other stuff you don't want getting onto your dishes).
10. Plastic baby toys
Teething rings and other plastic toys babies put in their mouths deserve a good cleaning. Put them in the dishwasher basket or in a mesh bag on the top rack and wash them along with the regular dishes.
11. Fake plastic flowers
Run them through on a normal cycle to restore their original luster. Make sure every part of the fake plant is plastic – sometimes they have paper stems (but you may be able to pop the plastic petal part off, wash it, and pop it right back on).
12. Microwave trays, drip pans, etc.
Use a normal cycle to clean the tray from your microwave, your drip pans and any other metal grease-collecting objects that could use their shine restored.
13. Dust pans
Run a dust pan through on the top rack, in a separate load from plates you eat on.
14. Light fixture globes
Glass and acrylic light fixture globes can be run through a delicate cycle, without a drying cycle.
15. Baseball caps and visors
Plastic hats will clean up with a wash on the top rack. Wash them in a separate cycle from your dishes and use borax instead of dish detergent. You may need to reshape the hats a little while they dry.
16. Fans – any removable plastic bits
The cage and blades of a fan get disgusting over time. Remove those parts and put them through a regular cycle on the top rack. Do NOT include any electrical cords or parts as they won't dry out and could shock you when you plug them in.
17. Golf balls
Toss them in with the dishes, in a dishwasher basket so they can't bang into the rest of your load.

18. Spice and condiment containers
Empty your spice containers once in a while, and run them through a regular cycle. Be sure they're completely dry before you put the spices back in.
19. Pet door flaps
Remove that pet flap from your door and throw it in the dishwasher for a good cleaning.
20. Shoes
Sneakers, crocs and sandals can generally be run through the dishwasher. Avoid putting shoes with suede, leather or wood parts into the dishwasher, as they can shrink and/or crack.
21. Sports equipment
Shin guards and other plastic sports equipment can be run through a dishwasher on a normal cycle. Skip the dry cycle.
22. Removable car cup holders
Or any other plastic removable bits from a car can be run through on a normal cycle, as part of a normal load.
23. Fridge shelves
Many fridge shelves can be put in the dishwasher to wash. You may need to pull out the top rack to fit them in.
24. Vent covers
You know those metal plates that cover a central air or furnace shaft? Unscrew them from the wall and run them through a normal cycle.
25. Potatoes
You can clean potatoes on a quick rinse cycle without detergent. This is probably a waste of water and electricity compared to doing it by hand unless you're doing dishes, too.
26. Vacuum cleaner attachments
Run them through on a normal cycle if they're gunky.
27. Hub caps
Make them look shiny and new by putting them through a normal cycle.
You already know that vinegar and baking soda have numerous household uses, but what about the rest of your pantry? Your cabinets are probably stocked with products that can help you get your home clean and sparkling, and you may not even know it.

Clean Copper with Ketchup
If you've got brass or copper details or items in your home (even jewelry) you can buff away tarnish and get them shiny and good as new with the help of some ketchup. For smaller items, you can cover them in ketchup in a dish, and for larger items, use a toothbrush to apply, then rinse.
Take On Hard-to-Clean Glassware with Rice
If you've ever tried to clean out a narrow vase or glass, you know how much of a challenge it can be. But a little uncooked rice can actually go a long way, especially when combined with water, vinegar and dish soap—swirl it around in the glassware you need to clean, and according to Real Simple, it'll get the hard to reach spots for you.
Take Out Grease Spots with Corn Starch
Next time you find yourself dealing with a grease stain—even if it's an older stain that you think there's no hope for—try covering it in a coat of corn starch and letting it sit for at least an hour before you wipe it off with a damp sponge. According to Esquire, it can take out even the tough stains.
Get Out Grass Stains with Sugar
You bake with it, you put it in your coffee, and you… can use it to do your laundry? It may seem surprising, but sugar can help cut grass stains. According to a video from HouseholdHacker (via LifeHacker) sugar contains enzymes that can break down the chlorophyll in grass stains. Make a paste out of sugar and water and let it sit on the stain for 30 minutes before washing.
Remove Rust Spots with Tea
If rust is taking over, there's an easy way to take it on: just brew some black tea. Soaking rusty items (like gardening tools in this example from WikiHow) in black tea for a few hours will loosen up any rust, so you can wipe them clean much easier—just make sure everything is totally dry before you put it away.
Combat Bad Smells with Coffee
Even if you don't drink coffee every day, you probably have some stored away in your pantry. Good news: If your home has some weird odors going on, you can use that coffee to your advantage. Heat a cup of freshly ground coffee beans and then set them in rooms that smell less than their best—the coffee will soak up all the odors.
Polish Wood Furniture with Olive Oil
Sure, you can buy furniture polish at the store, but if you want something a little more homemade, you can DIY it with olive oil (and vinegar or lemon juice, depending on whether you want a deep clean or a regular clean) according to WikiHow. Use a polishing cloth to get the job done, and let it air dry when you're finished.
Clean Cast Iron Pans with Salt
If you've ever wondered how to clean a cast iron pan without ruining the seasoning, you're in luck—all you need is some coarse salt, which is probably in one of your cabinets right now, and a paper towel. Food52 shows you exactly how it's done in this video, but it's a quick and simple scrub (and rinse, if you feel the need to).
Unstick Gum with Peanut Butter
Few things are more annoying than stepping in gum in your favorite shoes, but the peanut butter you always keep stocked in your kitchen can help. According to Do It Yourself, you should coat the gum in peanut butter and let it sit for 5 to 10 minutes, then scrape it off (with not against the grooves of your shoe) with a wire brush, and rinse.
Polish and Clean Leather with Milk
Okay, so technically this isn't a pantry item, but more than likely you have it on hand in your kitchen, right? If you've found yourself dealing with a stain on your favorite leather jacket, bag or furniture, a little milk can go a long way according to eHow. Simply dip a cleaning rag in milk until it's damp and dab the affected area, then rub in circular motions. Wipe off the milk with water when you're finished.
Remove Kitchen Grease with Vegetable Oil
It may seem totally counter-intuitive to clean grease with… well, grease, but vegetable oil can help loosen up sticky grease spots in the kitchen. Rub grease-splattered areas with vegetable oil and a paper towel, then follow up with either a vinegar or baking soda treatment to get it extra clean.
Doing a home improvement or renovation is a great way to add value to your home while learning something new. If you decide to DIY, you can enlist the help of your family and learn together.
But, when you're taking on a task you've never done before, there's a lot that can go wrong. You might go over budget, or the project might take significantly longer than expected. Sometimes we start jobs that we don't have the expertise (or permits) to finish and have to call in a professional sinking more time and money into what was supposed to be an inexpensive renovation.
To help you avoid some of these common pitfalls, we've provided these tips for running a successful home improvement project so you can focus on your renovation and not on the headaches that come with it.
1. Know when to call the experts
Undertaking a do-it-yourself project can be fun and rewarding. However, some tasks are better left to the professionals. Plumbing and electrical mistakes, in particular, can be dangerous and costly if you get it wrong. You don't want to disregard the safety of you, your family, and your belongings just to save money on hiring a professional.
2. Call the best expert for the job
Call multiple professionals for a quote before accepting an offer.
If you received what seems a very low quote for a job, make sure to call other experts in the industry to see how much they would charge for the job. Getting an unusually low offer could be a sign that the contractor will rush the project or use cheap materials.
Alternatively, if you receive a quote that seems too high, the contractor may have a busy schedule or might not really want the job, so they've offered you a price they don't expect you to take.
Regardless of who you choose, see if you can find reviews and testimonials to make sure you've selected a contractor who is professional and has good customer feedback.
3. Aim high with your budget
When homeowners take on a renovation, they tend to underestimate the costs. To avoid being shocked by going over budget, estimate what you think the total costs would be and then at another twenty percent. That twenty percent could account for damaged building materials, mistakes, or last-minute changes and customizations--all are frequent on DIY projects.
4. Don't work without a design or blueprint
Even for simple home improvement projects, it's best to start out with a plan. Having detailed measurements and drawings to refer to will help you avoid costly mistakes. We've all felt the temptation to "eyeball it" when working on a project--taking the extra few minutes to measure and refer to your plan will save you time in the long run.
5. Relax and focus on the results
Home improvement projects can be a source of frustration for many families. If you aren't an expert, it's easy to get angry when things aren't going as you planned. If you find yourself frequently hitting a wall-literally or figuratively--step back from the project and refocus on the end goal, improving your home for years to come.
Donate first
Before moving into your new space, make sure to get rid of all those things you don't need anymore.
Have you actually used that discounted bundt pan in the past year or two? If not, donate to your favorite local charity shop. Someone else might get use out of it, and you'll be saving yourself from more clutter in your new home.
Think vertically
Vertical storage is a tried-and-true method of using space, and the kitchen holds some unique opportunities for making the most of it.
Hanging pot racks, magnetic knife strips, mounted dish-drying racks installed above the sink, and rods with hooks for towels, aprons, small tools and oven mitts are all excellent ways to keep clutter in its place — and keep the surfaces and lower area of the room free.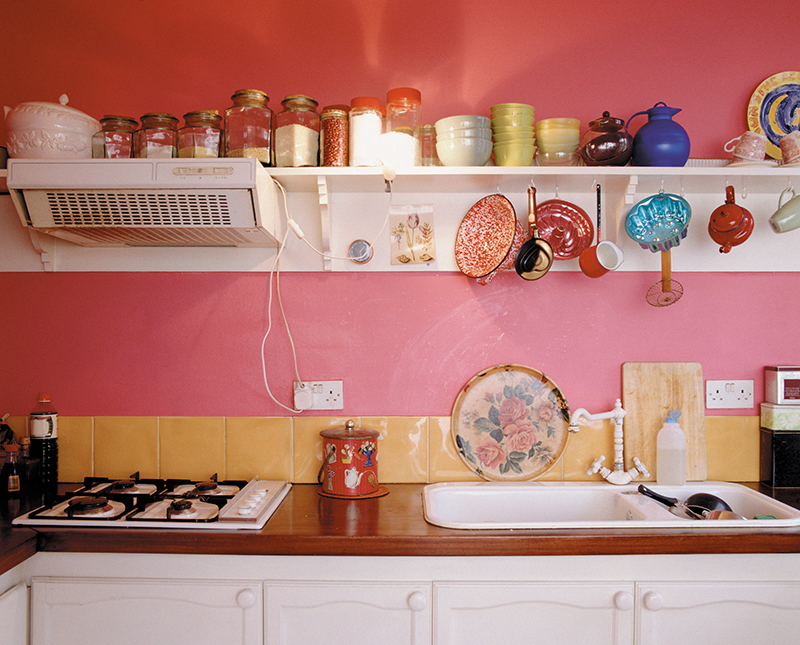 Find beautiful cleaning tools
The ugly truth is that a lot of everyday items just make sense to keep out — but that doesn't mean they have to be such an eyesore.
Skip the plastic and get yourself a classic wooden broom, natural fiber dish brush and a glass soap dispenser. These items don't cost much, but they add a softer look while also getting the job done.
Tap into change
Just because your place didn't come equipped with a dishwasher doesn't mean you have to suffer. Installing a quality faucet with a pull-down sprayer can make your chores less of a chore (and, as long as you swap it back before you move out, it shouldn't violate your rental agreement).
Have space and the budget for something more? Portable dishwashers are a massive timesaver. From small countertop models to wheeled butcher-block-top options, there are sizes that fit into almost any space and require nothing more than your standard sink to function.
Live the island life
A kitchen island is a versatile tool for almost any space — even the tiniest micro apartments!
Whether you choose a larger center-of-the-room-style piece or a small butcher-block number, these additions create more counter space and storage, all in one piece.
Bonus: If your island has wheels, it can serve as a portable bar for your next party. (Hey, if we can call bingeing our favorite shows with a few of our closest friends a "party," so can you.)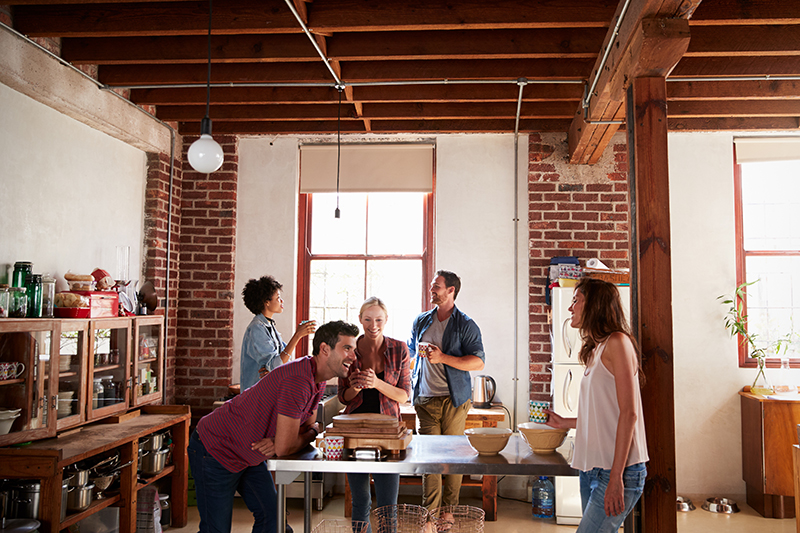 Light it up
Another timeless tip: Good lighting is everything.
If your kitchen is dedicated to getting things done and starting your day, invest in cool lighting — the kind that washes everything in a bright, sunlit glow. A refreshing, cooler light wakes us up and creates an invigorating feeling.
If you're more of a romantic and enjoy taking your time in the kitchen, keep relaxing, warm lighting around so that you can let the day melt away as you sip your merlot.
For those who prefer a bit of both, app-enabled bulbs can customize the mood for any occasion, and some even use every color of the rainbow.
Think (temporarily) BIG
If there's one common complaint about renting, it's the stark white walls. Removable wallpaper adds a touch of personalization and won't break the bank — or at least, it doesn't have to.
To keep costs low, stick to one accent wall. Finding a large-scale print will make the space feel larger, and layering a sizable mirror on top will maximize the look and any light.
Curate unique displays
One of the best ways to keep an assortment of oddly shaped kitchen items is to dedicate either one section of the room (think: the top 12 inches of the walls) or one wall to showing them off.
Whether it's your grandmother's antique creamer collection or the jumble of cookie cutters that won't fit into your drawers, making them into a vignette adds a layer of personalization to your space while also providing covert storage in plain sight. Easy-to-install hooks or some simple shelves are great ways to achieve this solution.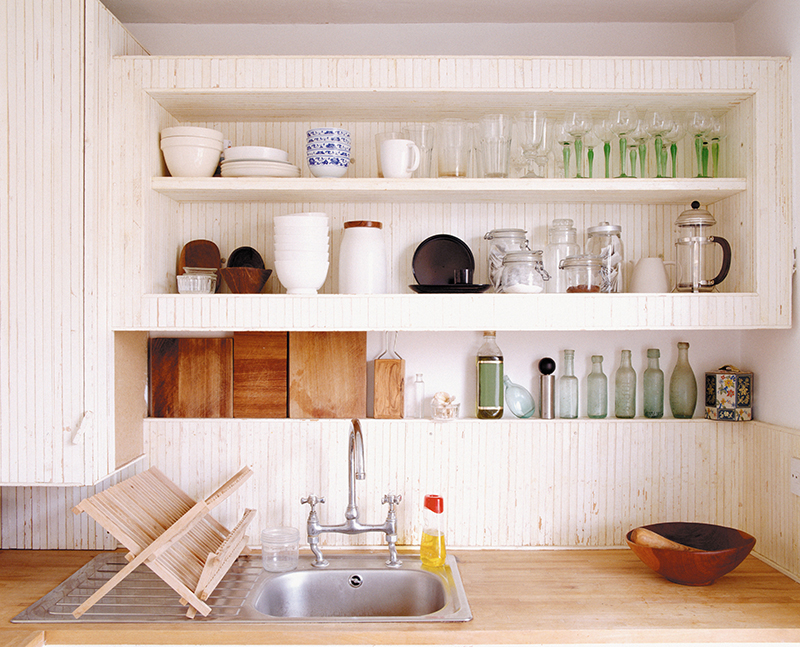 Keep it alive
Every room deserves a plant. Not only do they look good, but they also improve the quality of the air around them. If you don't have the floor or counter space to spare, a hanging plant will do the trick.
No natural light in your kitchen? Or perhaps you're better at killing plants than keeping them green? No matter — there are plenty of realistic artificial plants these days, which means everyone can benefit from the organic shapes of ferns, succulents and the ever-popular fiddle-leaf figs.
Have pets? Make sure to check the toxicity of your plants before choosing their placement.
Eye-Catching Charm on a Small Budget
There are dozens of small, inexpensive home improvements that you can do to up your home's curb appeal. Adding curb appeal to your house not only makes it easier to sell, but it also gives your house that nice and finished look in which you can take pride in. When deciding on which upgrades to make to your house, consider what your house currently looks like and what will look best with it.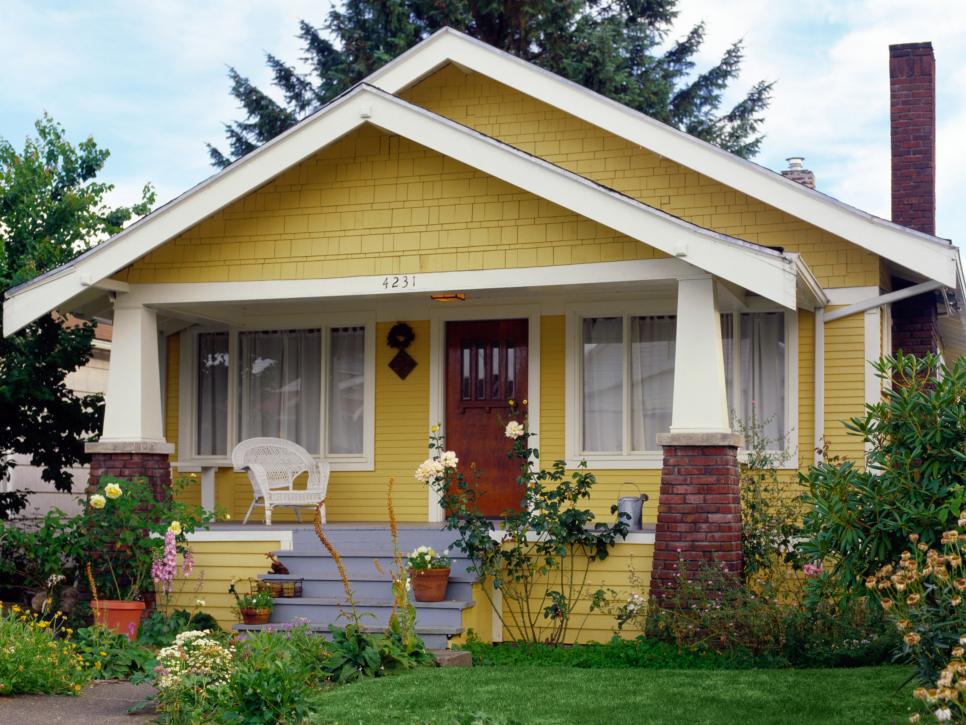 Paint the Front Door, Trim or Shutters
Most exterior paint will cost you approximately $30 a gallon. Painting your home can definitely add some brightness and revive your house. Pick a bold color that makes your house stick out, but make sure to match it to the rest of the colors on your house.
Properly prep all surfaces
before you paint so you'll get great results that will last for years to come.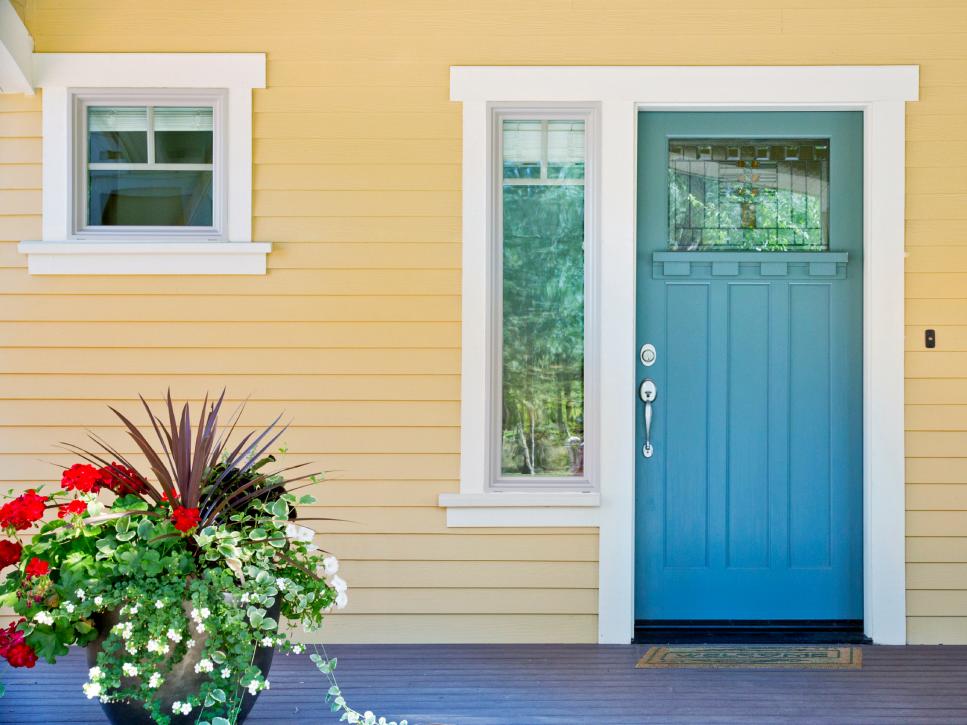 Upgrade Your Mailbox
It doesn't matter if you have a regular mailbox by the road or if you have a box mounted to your house, adding a new mailbox can add curb appeal. You can find a new mailbox starting around $20. When you install your mailbox, make sure that you are following the regulations that are set forth in the city that you live in. If you have a simple mailbox mounted on your house, this home improvement project should take less than an hour to complete. If you have a full-size mailbox at the road, plan for at least two hours or so to complete the project.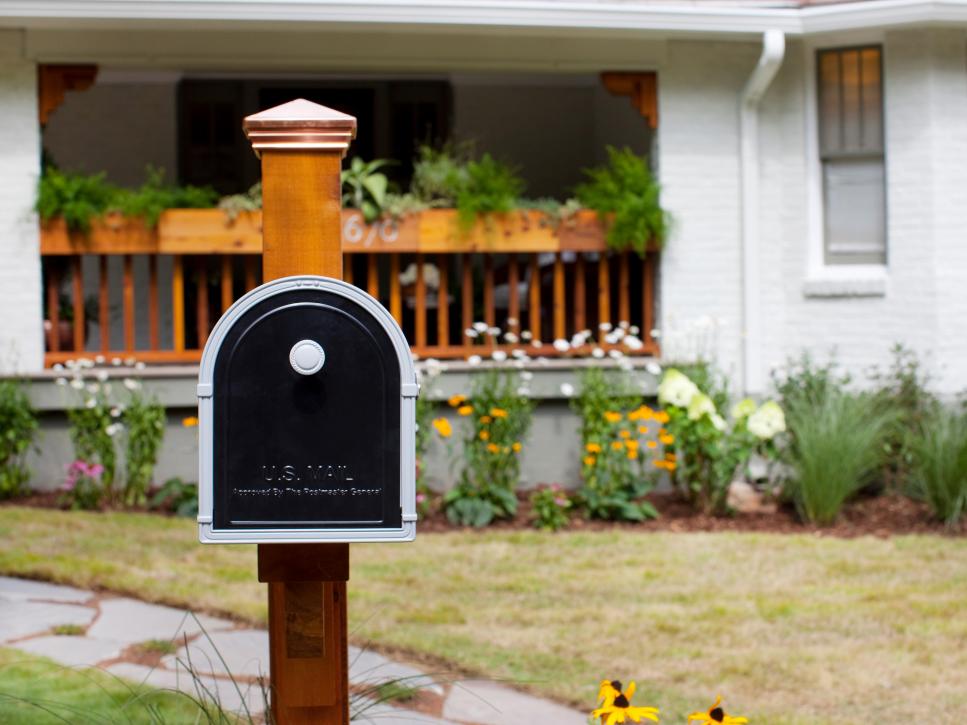 Install New House Numbers
If your house has old or faded house numbers on it, purchase some new numbers to spruce up the curb appeal. Try to match your new house numbers with the finish that is on your exterior light fixtures. Simple house numbers can start at $2.00 for a number or you can look into customized plaques that can cost $50-$100.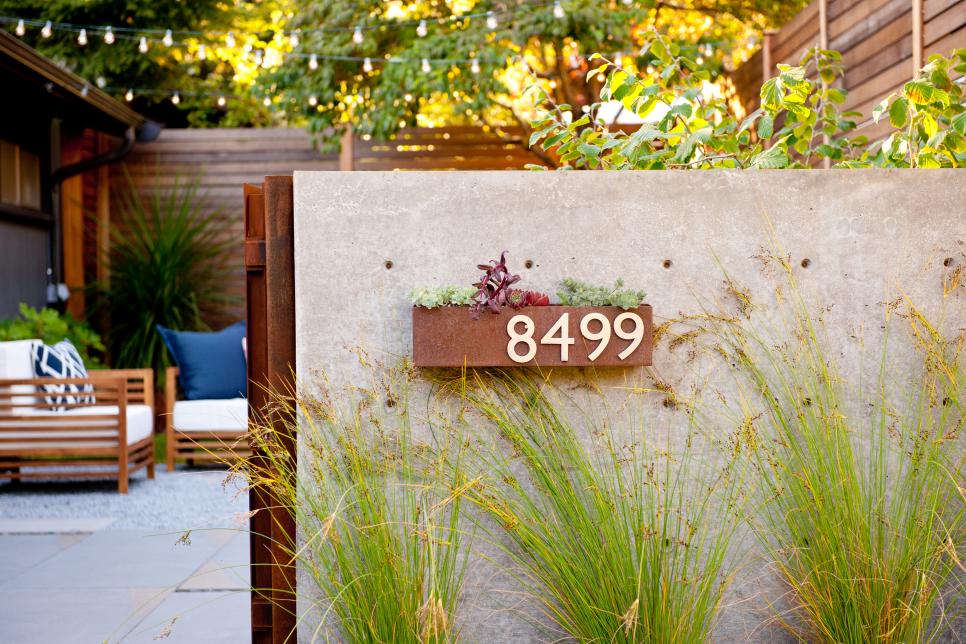 Plant a Tree
Planting a tree is one of the most common ways to add curb appeal to your house. Before you plant a tree, consider how big the tree will get and how it will affect your house. If you have enough space, try planting two trees to frame your house or your entryway.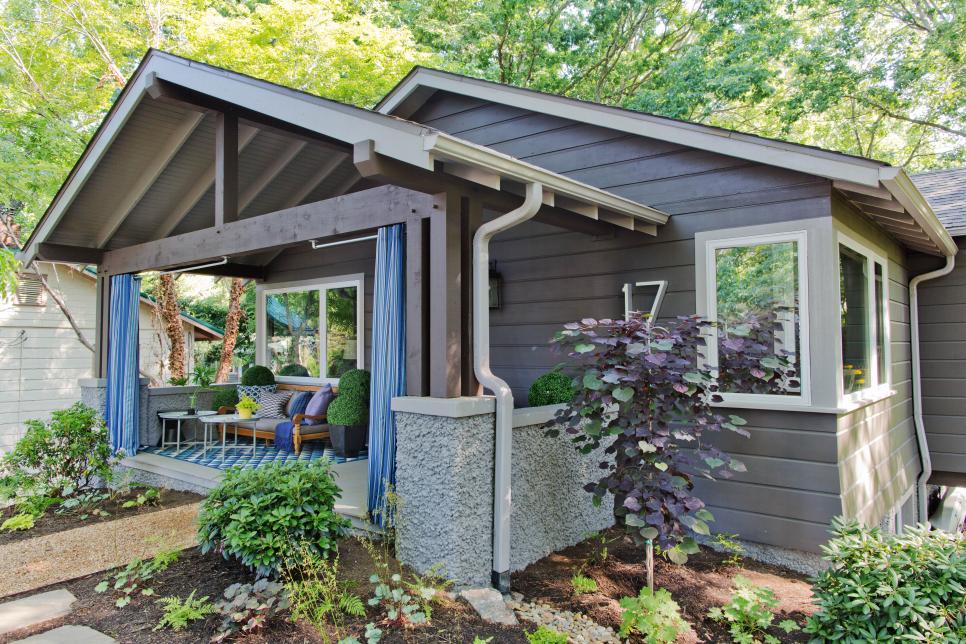 Replace Exterior Lighting
When buying new exterior light fixtures, consider both the style of your home and the function of the lights. You want them to be able to adequately illuminate your entryway and make it safer. Look for fixtures that have the same mounting system as the current ones that you have to save yourself some time. Exterior light fixtures can be found anywhere from $20 and up. Check salvage shops, you might be able to find vintage lighting to match the age and look of your home.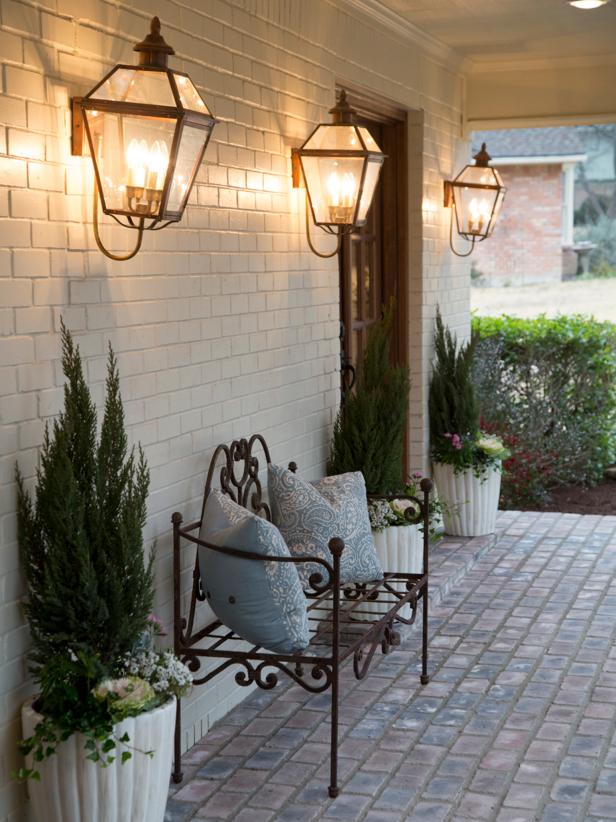 Install Flower Boxes
If your house is lacking color, try adding flower boxes. Install them on the front porch railings as well as below the windows. Window boxes are relatively cheap or you can DIY them in an afternoon. The flowers and soil may actually cost you more than the box, and remember, you have to maintain the flowers to actually add curb appeal. If you rather not add flower boxes to your house, then consider buying some container gardens in pots and placing them on your front steps or porch.